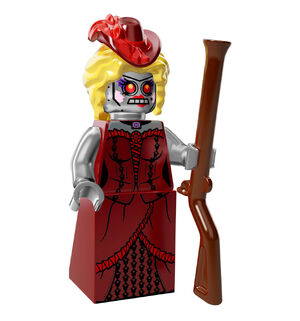 Calamity Drone is one of the characters in the 2014 film, The LEGO Movie. She serves Lord Business. Her "Ayaya!" cry is often heard in The Old West.
Notes
Her name is a pun on "Calamity Jane".
She and Velma Staplebot are the second and third female robot minifigures in Minifigures, the first being was the Lady Robot.
In the Lego Movie, she gets crushed by a house.
In the film and the video game, she has a brick built gun rather than a brown musket.
In the video game, Calamity Drone costs 500,000 studs.
Appearences
Movie Appearances
Video Game Appearances