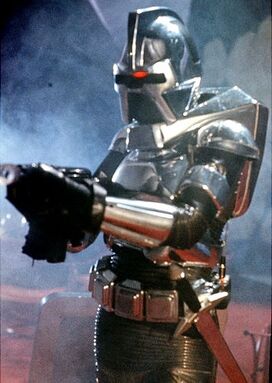 This article is for the original 1978 Cylons. For the re-imagined Cylons, see Cylon (TRS).
The Cylons are a race of alien robots that serve as the antagonists of the science fiction TV series Battlestar Galactica. Originally created by a reptilian race also known as Cylons, the Cylon machines were believed to have rebelled against their makers and wiped out the entire species. The Cylon robots have since built up a powerful military empire, conquering and enslaving various cultures and completely exterminating others. After the Twelve Colonies intervened on behalf of the conquered Hasaris civilization, the Cylon Empire has marked the entire human race as a target and have dedicated all of their resources to mankind's destruction.
Cylon types
Edit
Ad blocker interference detected!
Wikia is a free-to-use site that makes money from advertising. We have a modified experience for viewers using ad blockers

Wikia is not accessible if you've made further modifications. Remove the custom ad blocker rule(s) and the page will load as expected.