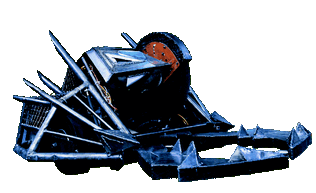 Dead Metal (also known as Death Metal in Dutch Robot Wars) was one of the four original House Robots alongside Matilda, Sergeant Bash and Shunt. Designed to resemble a mechanical scorpion that had "reanimated from a junkyard", he fought by grabbing hold of contestant robots with his front-mounted claws and cutting into them with the circular saw on his "head". He was driven by a battery powered engine, and moved at a speed of 5.4 metres per second (12 mph). Dead Metal was protected by a steel exoskeleton consisting of jagged armour plates and spiked struts as wheel guards. Dead Metal was originally going to be painted pink to match its lobster-like appearance, but was left grey to give it a more 'menacing' look. Despite appearing in all seven wars, Dead Metal was virtually unchanged from series three onwards, except for receiving new pneumatic rams in his pincers for series four.
Ad blocker interference detected!
Wikia is a free-to-use site that makes money from advertising. We have a modified experience for viewers using ad blockers

Wikia is not accessible if you've made further modifications. Remove the custom ad blocker rule(s) and the page will load as expected.