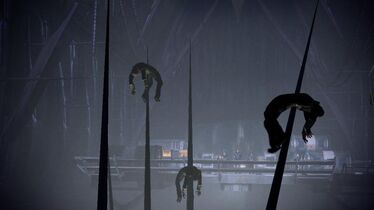 Dragon's Teeth
are spike-shaped machines of
Reaper
design. These devices are used to turn organic bodies into cybernetic slave drones that the Reapers can control. When living or dead bodies are impaled upon the spikes, all bodily fluids and trace minerals are extracted and replaced with nanotechnology that transform the bodies by forming various synthetic implants and hardening the subjects' skin and muscle tissue.
Dragon's teeth were first witnessed on Eden Prime where the Geth used them to covert human bodies into Husks. At first it was believed that the dragon's teeth were created by the Geth themselves, but it would later be confirmed in Mass Effect 2 that the technology was Reaper in origin.
Ad blocker interference detected!
Wikia is a free-to-use site that makes money from advertising. We have a modified experience for viewers using ad blockers

Wikia is not accessible if you've made further modifications. Remove the custom ad blocker rule(s) and the page will load as expected.