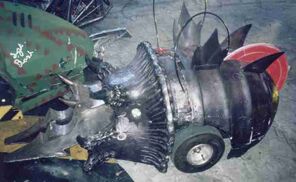 Matilda, sometimes known as the Matriarch of Mayhem, was a House Robot in the popular UK gameshow Robot Wars. The only House Robot to be explicitly 'female' and resembling a mix between a triceratops and a warthog, Matilda was one of the original four House Robots, alongside Shunt, Sgt. Bash and Dead Metal, and was a constant throughout the show's run.
Matilda was initially equipped with pneumatic tusks for lifting and flipping robots, and a chainsaw tail. She would often be picked on by contestant robots in the early days of Robot Wars, before her flywheel addition turned her into one of the deadlier House Robots. In series three, Matilda's tusks and chainsaw were strengthened, and in series five, her chainsaw tail was replaced by the 27kg flywheel. The flywheel and chainsaw could be easily swapped out, but the chainsaw was never seen again in the UK version of Robot Wars. Matilda's greatest weakness was that she could be flipped relatively easily, but her darkest hour came in series five, in the Southern Annihilator, a moment fondly remembered by fans.
Matilda had lost her outer shell on several occasions, such as when Chaos 2 decided to target her after dealing with Hypno-Disc, but no one did more damage to her than Razer. In this match, Razer had already done enough to Onslaught by shredding a wheel, but Onslaught made the mistake of getting too close to Matilda, who rammed it onto its side and against the wall. Razer moved in to finish Onslaught, but was pushed away by Matilda. As though taking it personally, Razer charged back in and punctured Matilda's shell twice, the internal damage setting her on fire. All she could do now was flip her tusks as Razer continued its vicious assault against her. Suprisingly, Sir Killalot seemed to be briefly aiding Razer in nudging Matilda towards the now open pit, as was Sgt. Bash, before they began shunting her towards the flame pit where she burned anew. Soon, Dead Metal dropped Onslaught into the pit, and Killalot turned his attention to Razer before 'cease' was called as Refbot extinguished Matilda. The round was followed with a picture of Matilda bearing the legend 'R.I.P. Matilda: Destroyed In Action'. 'Or Was She?' quickly appeared on screen, and Matilda was seen back in the arena, heavily bandaged, but fully functional again.
Like her fellows Matilda had several toys produced in her image, including a remote control version, and she also made an appearance as a featherweight House Robot in Roaming Robots' 2011 Heavyweight UK Championships in London's O2 Arena.