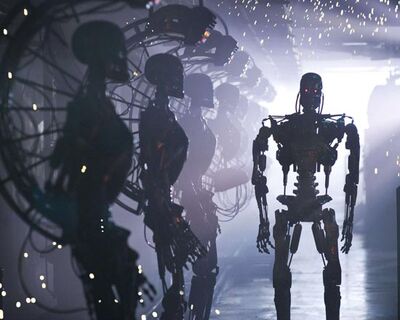 Welcome to the RoboWiki
Edit
This wiki is for all things relating to robots. Fascinated by technology? Enjoy watching media of titanium titans of the future laying waste to us puny meat-sacks? Then come on in!
RoboWiki is a database on robots from all forms of media as well as real-world robots and the science of robotics. From A.P.E.X. to Badniks, from Cylons to Daleks. Let the Machine Age begin here!
Describe your topic
Edit
Robot Supremacy/RoboWiki is a database for all forms of robotic life and technology, be it fictional or real. Robots designed for labour, for war, sentient machines or piloted mecha, they all have a place here. This wiki is not strictly just for robots either, but artificial intelligence and certain digital constructs, cyborgs and bionic technology, as well as the people/characters behind the creation of such devices. RoboWiki is currently maintained by Devo DrakeFox, but anyone is welcome and encouraged to contribute.

Latest activity
Edit
Ad blocker interference detected!
Wikia is a free-to-use site that makes money from advertising. We have a modified experience for viewers using ad blockers

Wikia is not accessible if you've made further modifications. Remove the custom ad blocker rule(s) and the page will load as expected.