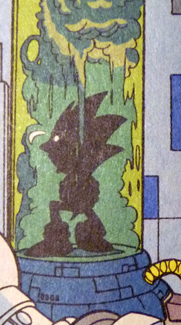 The Roboticizer is a machine from the Sonic the Hedgehog comics published by Archie Comics, and also the SatAM and Sonic Underground cartoon shows. In the comics and SatAM series, the device was invented by Sonic the Hedgehog's uncle, Sir Charles Hedgehog. Its purpose was to repair/replace damaged parts of the body and save people from terminal illnesses and age. However, its function was perverted by Dr. Robotnik, who stole the invention and used it to turn Mobians into mindless robot slaves. The precise science behind the Roboticizer is never made clear, other than that it transmutes flesh and bone into metal and circuitry and forcefully surpresses the subject's consciousness, overwriting it with computer programming and making the subject completely obedient to Robotnik.
Ad blocker interference detected!
Wikia is a free-to-use site that makes money from advertising. We have a modified experience for viewers using ad blockers

Wikia is not accessible if you've made further modifications. Remove the custom ad blocker rule(s) and the page will load as expected.