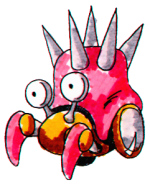 Spikes is a Badnik robot created by Dr. Eggman and an enemy in the first Sonic the Hedgehog video game. It resembles a hermit-crab and crawls along the ground on two wheels, jabbing at foes with its clawed forelegs. The spikes on top of its shell prevent Sonic from spin-jumping on it, so it can only be struck head on or from behind.
A new version of the Spikes Badnik appears in Sonic the Hedgehog 4: Episode II. This version appears in the White Park Zone and moves on multi-jointed legs, slowly dragging its spiked shell behind it. Sonic cannot destroy it with normal attacks and must either work with Tails and crush the Spikes with a Rolling Combo attack or attack it in his Super Sonic form. It is also possible to defeat these Badniks by rolling giant snowballs over them.
Game Appearances
Edit
Sonic the Hedgehog
Sonic the Hedgehog 4: Episode II
Sonic Jump
Sonic Lost World
Ad blocker interference detected!
Wikia is a free-to-use site that makes money from advertising. We have a modified experience for viewers using ad blockers

Wikia is not accessible if you've made further modifications. Remove the custom ad blocker rule(s) and the page will load as expected.