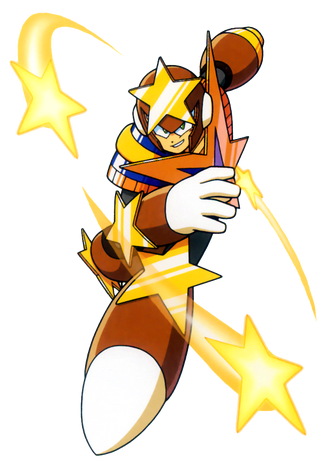 Star Man (DWN-037) is one of the eight Robot Masters from Mega Man 5. Among the Wily Numbers' fifth unit, he acts as a supervisor and has been tasked with overseeing the construction of some of Dr. Wily's bases. He was designed to be an outer-space combatant and moves like a dancer in low-gravity environments. He is a hopeless romantic and narciccist and dreams of taking to the stars with his one true love. In the Megaman Megamix manga by Hitoshi Ariga, he is often shown holding a rose in his mouth.
Abilities
Edit
Star Crash - A star-shaped barrier that Star Man can use to protect himself and allies. He can also launch these stars at enemies. Mega Man is capable of absorbing this ability.
Super Arrow - This is not actually a weapon Star Man uses in battle, but Mega Man will obtain this weapon from him after defeating him in Mega Man 5. Mega Man can fire arrows in a straight path that can inflict heavy damage on some enemies and can even stick to walls for a brief time. When stuck in the wall, Mega Man can use the Super Arrows as footholds to reach higher ground.
Weakness
Edit
Water Wave - Wave Man's weapon can bypass the Star Crash altogether and inflict heavy damage on Star Man.