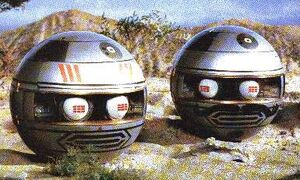 18, or Dix-Huit, as he prefers to be called, is a Zeroid from the Terrahawks, under the leadership of Sergeant Major Zero. 18 has the personality and accent of a stuck-up Frenchman, which Zero attributes to 18 adding garlic to his oil.[N 1] He has been on several missions with the Terrahawks, but is notably lazy and something of a complainer. One of the only ways to get 18 moving is for Zero to take a much firmer stance when giving him orders. To accentuate his 'nationality', 18 has gone so far as to equip himself with a stereotypical French curled moustache.
↑

On at least one occasion, this prompted Zero to advise two other Zeroids to always stay upwind of 18, who was not present at the time.
Ad blocker interference detected!
Wikia is a free-to-use site that makes money from advertising. We have a modified experience for viewers using ad blockers

Wikia is not accessible if you've made further modifications. Remove the custom ad blocker rule(s) and the page will load as expected.